Hi I'm Dave, the Tree Guy
I have been an Arborist for over 28 years, starting Top Notch Tree with little more than a pick up and a chainsaw in 1983 I hacked my way into the Industry. Cutting my teeth on rope ,saddle climbing, and spiking contract Elm removals.  I was fortunate to meet Alex Shigo in 1990 and after a short tutelage he changed a tree cutter into an Arborist. I became the 7th Certified Arborist in Minnesota, and my company grew to 40 some employees over 6 teams. Focusing on high quality tree trimming and cutting edge IPM we became the 1st accredited tree company in MN and 11th in the nation. In 2009 I sold Top Notch Tree to Bartlett Tree Experts.
HISTORY
26 years in the Tree Industry, having 40 or more employees, taught me a lot about efficiency and productivity. Mini loaders combined with a Branch Manager™ grapple added more dollars to Top Notch Tree's bottom line and even more important was employee moral climbed when we had Mini loaders to do the grunt work.
After attending trade shows talking with many Arborists about their needs we have expanded the Branch Manager™ line to a full service attachment resource.
Branch Manager Attachments grew out of one Tree company owners need for a brush and log moving attachment to fit his new Mini Loader. Dave Nordgaard, former owner of Top Notch Tree the 1st accredited tree care firm in MN, says "I Bought my first Mini loader (ramrod 750) in 1998, the "bucket" style grapples I tried for mini loaders at the time had very small openings and broke under the rigors of professional Tree service work. After experimenting with a modified set of pallet forks and a simple hydraulic "Beak" I developed a light weight "Skid" type bypass grapple. Moving Brush, logs, and feeding the chipper never was easier and my tree crews loved it. Soon I was building them for friends and in 2002 My Son Dustin and I started Top Notch Equipment to Distribute the growing Branch Manager™ Line of mini loader attachments.
Branch Manager & Top Notch Equipment 2017
After founding and operating Top Notch Treecare for 25 years I started an equipment company with my son to market and sell a mini grapple that I developed for my tree company's mini skids. Since 2001 I had developed more attachments that worked well for my tree company. Top Notch Equipment, on the success of the mini grapple, expanded into selling skid loaders, mowers, etc as a small mom and pop Minnesota dealership. We knew that the Attachment Manufacturing and equipment dealership should be two separate business entities but when you are small and starting out who wants to run two sets of books?!
This arrangement spurred lots of confusion over the years; is it Branch Manager or Top Notch Equipment? This summer we decided both sections of the business had to be their own company so we've now split Branch Manager and Top Notch Equipment. My son took over 100% ownership of Top Notch Equipment and I took 100% ownership of the NEW Branch Manager LLC entity. This has freed me up to concentrate my efforts on tree guy attachments and Giant wheel loaders.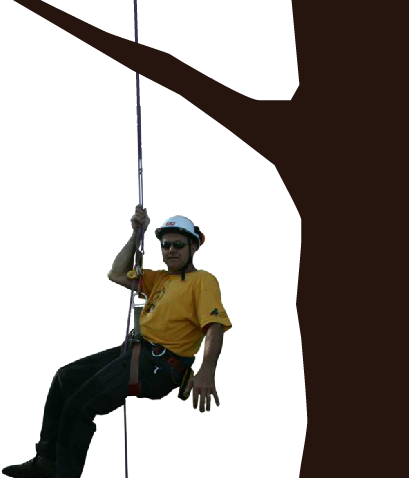 Branch Manager & Giant 2017
After 15 years of customers requesting under 36" wide machines I found Giant articulating loaders in Europe summer of 2016. After my first visit to the factory in the Netherlands I was very impressed in the quality of the machine, all steel construction, under 36" capability, along with the company culture and business practices. In my time there I had also learned that Kubota, a company well known for their engines, puts their name on the Giant loaders in Europe.
The owner of Giant was very receptive to modifications we requested and developing the U.S. market.  They re-engineered the machine with our requests and allowed me to put my Branch Manager trademark on it, giving me exclusivity to the 13-function joystick and under 36" dual tire options. I felt honored and enthusiastic as this grand opportunity fell in my lap to market an incredible machine to my tree industry brothers. I embarked on ordering 254 Tele machines and labeling it with our Red color as a Branch Manager Edition 325T.
I am so impressed by the quality & reliability of Giant machines, and the integrity & honesty of the owner, whom I now work with as a consultant to the tree industry. The machine is now distributed as the yellow Giant Groundskeeper 254T.
After selling 100's of mini skids and hundreds of Avants to the tree industry over the last 16 years I'm proud to hitch my Brand Manager reputation to the Giant line of articulating wheel loaders. Should you have any questions on how to get your hands on one of these machines please do not hesitate to call me direct at 612-221-2043.
"I want to thank all my Branch Manager Customers for loving our products"
Dave Nordgaard,
President