Description
Specifications
Engine: 35HP Kohler
Fuel: Gas
Weight: 750lbs
Length: 49"
Height: 50"
Width: 35"
Revolution Grinding Wheel or Green
Teeth Wheels
Under 36" wide
6' wide adjustable chip guards 20" cutting depth
Direct Belt Drive
Mounting plates for ALL
Mini & Full Sized Wheel
Loaders & Skid Steers
Dual Arc Cylinders
6 Gallon Fuel Tank
2" Over-Sized cutter wheel shaft for increased durability
4-Groove Direct Drive
Sheaves and belt
2" American made Heavy
Duty Bearings
3 Tie-Down Points
Stands on its own
1 year Branch Manager Warranty
2-year Kohler Engine Warranty
Cutter Wheel
Diameter: 20"
Thickness: 1/2"
Cutting Depth: 20"
Cutting Height: 24"
Cutter Head Swing: 42" Arc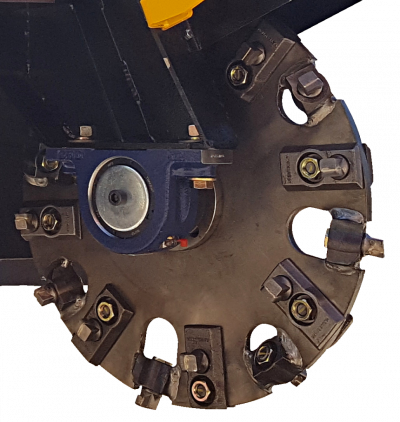 The Revolution
From New River Equipment Corp., utilizes the industry's best cutting tool while reducing wheel wear.
Precise alignment of all cutting tools for superior cutting and wheel balance.
Locating pin system on pockets (wear pads) to insure correct placement on the wheel every time.
Low profile and beveled pocket design that maximizes cutting efficiency.
Unique pocket design protects the cutting wheel and is reversible for twice the pocket life.
The Quadwheel
This high-performance wheel uses the same technology as the Greenwheel®, but has two additional holders that will cut through your stump even faster!
The unique design of this wheel provides approximately a 15″ gap between each set of teeth. This provides several benefits:
It allows you to start your cut farther into the stump.
Only one set of teeth is engaged at once. The break before the next set of teeth passes through the stump gives your motor a chance to regain RPM before starting another cut.
Uses only 4 holders, 12 Wearsharp® teeth & 8 bolts, decreasing your maintenance costs.
Replaceable Tooth Holder is Grade 8 heat treated.